Rockfile is a cloud storage and file-sharing service provider.
Rockfile serve both Upload and Download at
<<maximum speed>>!!
Why Rockfile is different? (As a partner you should know more about us)
- We have the best infrastructure and we pick our server hardware carefully.
- Custom File-servers load-balancing which allow us to offer best service with maximum efficiency.
- Highly skilled and experienced team.
- High speed for all users.
- Responsive design which allow us to serve users on all devices (Mobiles, Tables, and Desktop) which will help making Rockfile the beloved service provider for your users.
- Blazing fast website browsing.
- Available in multiple languages.
- Long storing time, up to 180 days for free users.
- You set your own minimum payout, which allow you to store your money safely with us until it reach certain amount, and you don't need to request it manually, we got you covered.
- Automatic payouts, which provide you with peace of mind, we take care of everything for you.
- High PPD & PPS rates.
- Detailed reporting which help you make better decisions and increase your revenue.
- Stable service with guaranteed uptime of 99.9%
- Special offers for our
affiliate
members including discounted premium plans and increased rates ocassionally.
- Payouts made via the most used E-wallets
- Wide range of countries served in PPD plan.
- Points based rewarding program runs in parallel with your earning plan (PPD, PPS or MIX). NEW
Earn up to $25/ 1000, downloads, 50%
each Premium sale & 40% for rebills
- Our affiliate program allows you to earn from file downloads, Premium sales & even referrals.
1. PPD only :-
100% from download profit, 0% from Sales
2. PPS only :-
50% from Premium sales & 40% Rebills, 0% from downloads
(It's easy to guarantee sales with us as we have a stable and superior service level, we also accept wide range of
payment
methods)
We accept VISA &
Bitcoin
.
3. Mixed plan :-
50% from Downloads, 40% from Premium Sales & 30% rebills
4. Referral earnings NEW
Earn points by referring users / uploaders and share earnings with them by points which converted to money.
You get points when a new referred user sign up, and on every download a referred uploader receive.
5. Webmaster earnings NEW
A. % on sales come from your website. [contact us to join]
B. Refer your website uploaders and get points on each download your uploaders receive. [No need to contact us.]
You can choose from PPS, PPD, Mixed from your account page after registration.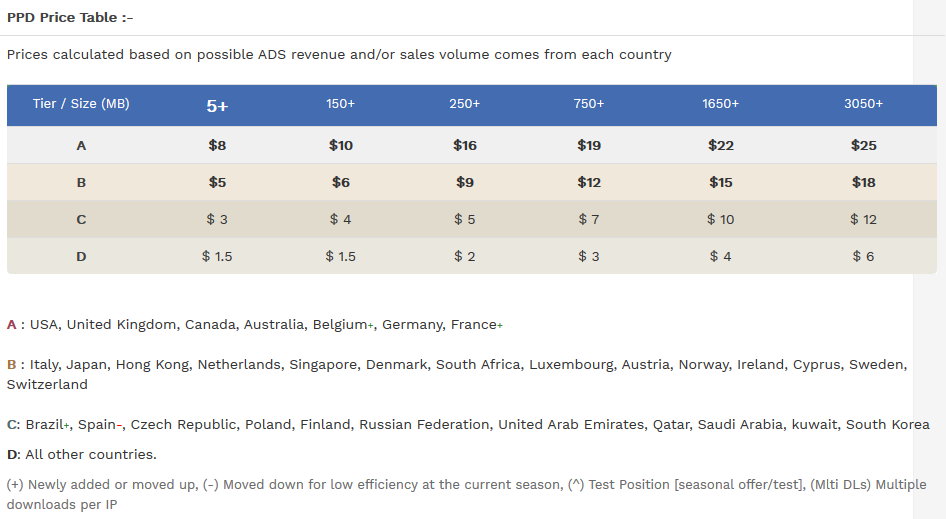 Program Information:
- We pay for files starting from 5MB.
- You set your minimum payout as you prefer, but it couldn't be less than $20 and not more than $300.
- We pay using Webmoney, Payza, Neteller, Skrill, Bitcoin (Minimum is $150) & PayPal (PayPal Minimum is $100)
- Only completed downloads counted.
- We count multi. downloads from same IP in 24 hours (used seasonally to increase your revenue).
- No need to request your payouts manually anymore.
- Payout request is generated automatically 2 times a month at dates (01 & 15) and you will get paid within 10 business days after request is generated. (usually earlier).
- You can control who can download your files, Premium Users Only, or all visitors.
- You can change your profit mode 7 days after last update.
- We apply withdrawal fee of 8.5% ($16 max.) on (Webmoney & Neteller); 14.45% ($29 max.) on Bitcoin and Bitcoin Cash, 10.5% ($22 max.) on PayPal; and 13.45% ($25 max.) on Payza and Skrill. - We apply 10% fee on Inactive accounts once every month (Inactive means accounts without login for 180 days or more).
We don't allow **** / adult-related martial on our service.
http://rockfile.co/aff93488
http://rockfile.co/